Last Updated on
June 29th, 2023 06:50 am
How to Measure Your Cap Size:
What Size Cap Is Right for you? Get All the Answers You Need Right Here.
Read on for a comprehensive guide to hat sizes, measuring your head, fitted hats versus adjustable hats, how to read sizing charts, sizing trends within specific brands, and more. Here you'll find all the crucial info to make sure you're getting the best hat for your buck, for your brand, and for your unique sense of personal style!!
Historically, the biggest divide in the hat world has been between adjustable hats (snapback or suspenders) vs fitted hats; we'll take a look at that first so you can easily figure out which type (adjustable or fixed) Best for you. These include men's hats, women's hats, XS hats and XXL hats, all fully customizable at VAN LOEWE…
Fitted hats were developed first, in the roaring twenties (1920s, that is), while adjustable hats came onto the scene a couple decades later in the 1940s with latex rubber used as a stiffening agent. OK, history lesson over! Just know that if you order a New Era fitted you're getting the oldest of old-school classics, whereas if you opt for Yupoong you're surfing the wave of a high-tech future. There'll be more on that later, when we go through fitting trends brand by brand … before we delve into all those details, though, let's just figure out how to measure that noggin!
You want to start by grabbing a measuring tape and positioning yourself in front of a mirror. We're going to find the widest part of the head to ensure the most accurate – and comfiest! – size hat for you. Feel the back of your skull to locate the points that stick out a bit; then, with the measuring tape placed against these points, wrap the tape around the front of your head to likewise fit the widest point. That should be just a bit above your eyebrows. Now that you've got the measuring tape fitted to the widest circumference of your head, make sure it's not too tight! While you don't necessarily need to be able to fit a finger under the measuring tape, you at least wanna be able to move the tape around a little bit.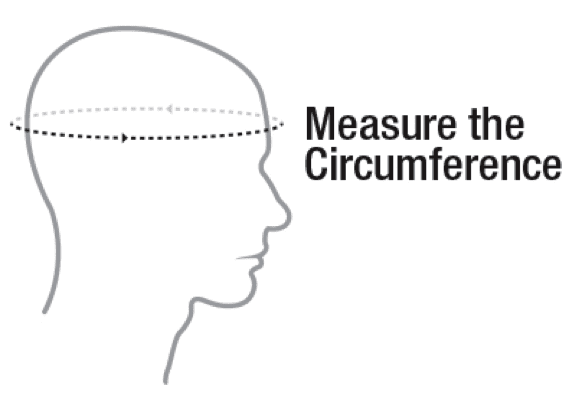 Here are the sizes that correspond to each measurement:
20 1/2 inches = size 6 3/8
20 7/8 inches = size 6 1/2
21 1/4 inches = size 6 5/8
21 5/8 inches = size 6 3/4
22 inches = size 6 7/8
22 1/2 inches = size 7
22 7/8 inches = size 7 1/8
23 1/4 inches = size 7 1/4
23 5/8 inches = size 7 3/8
24 inches = size 7 1/2
24 3/8 inches = size 7 5/8
24 3/4 inches = size 7 3/4
25 1/4 inches = size 7 7/8
25 inches = size 8